We hope you had an amazing Thanksgiving. Our family sure did. All of our kids were together and our 2 newlyweds were in town. We all gathered at our oldest son's 1930's home in Midtown San Antonio.
We ate until we were too full to eat any more and we didn't worry about matching plates, cups, or decorations. We simply enjoyed being together, eating, watching football, playing games, and visiting with each other. Spending time with family is what we love.
Christmas is right around the corner. Some of you may want to get ready for this busy time before even thinking of selling or buying a home! You have so much to do and you have family coming in for goodness sake! You may want to wait until after the New Year. Don't stress out-do what is best for you and your family, however, it is actually a great time to sell your home or begin to buy your next (or very first) home. We are here for you to help you through this process. Part of our job is to make this as painless and stress-free as possible. Let us negotiate for you, even on those new builds and inventory homes in the new communities (psst, this costs you nothing). Allow us to do the bidding when you are ready to make a decision on the next house you want to purchase. Allow us to hire a stager and professional photographer when you are ready to sell your home. We know San Antonio and the surrounding area quite well. We want to search the internet and the city for you. We are happy to recommend schools, communities, and different parts of S.A. depending on what your wants and needs are. Let us do the work for you. We want to serve you. Enjoy your Christmas and soak in the reason for the season.
Our son, Mike, preached on the beginning of the Advent series at The Park Midtown this past Sunday. http://www.theparkmidtown.org/ Advent is the arrival of an important thing, important person, or important event. It's an anticipation of this event. We are in between the first coming of Jesus and the second coming of Jesus and we are waiting with great anticipation! We are waiting and living with great hope and joy. Luke 21:25-28 tells us that this world is dark and nations will be filled with anguish, but we are to stand up and lift up our heads because Redemption is drawing near.
This is Christmas. May you see Jesus in Christmas this season.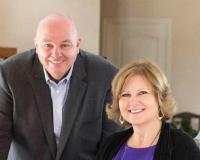 The DeFrees Group has over twelve years' experience in the real estate industry, to include lending experience. Growing up and graduating from college in San Antonio, we have seen this vibrant city ....