To honor those who have sacrificed the ultimate sacrifice for our freedom in America this Memorial Day, I want to share this story of a precious family. The kids are now older than they are in the video but they are still just as precious. The boys are teenagers and amazing soccer players, awesome brothers, and young men who follow after God. The girls are loving and just as sweet as their mom. Ginger's husband, Jim, is a strong leader who loves and leads them.
I would have to write a small novel to describe everything about this family but you can watch this video to get a glimpse of the sacrifice our families go through so that we can live in a country that is free.
Thank you for your service and your sacrifice. We do not take our freedom for granted and we just want to take this moment and this day to say Thank You.
Sincerely,
Bill and Pam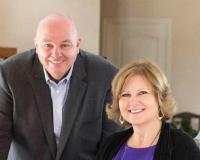 The DeFrees Group has over twelve years' experience in the real estate industry, to include lending experience. Growing up and graduating from college in San Antonio, we have seen this vibrant city ....