We hope you all had a wonderful Thanksgiving! Our family all got together at our oldest son, Mike's house. Because of schedules and extended family, we are usually missing one or two. We have 7 kids, 3 married kids, and 3 grandbabies, so even if one or two are missing, it's still a household. But believe me, we miss those who aren't there! This Thanksgiving, we were all together! Only our son's fiance was not there; she was with her family. It was a special time of thanks and blessings.
We are giving you a sneak preview of a home that will be listed Friday! If you love the up and coming MidTown area, you'll love this Craftsman home in Beacon Hill.
It has an oversized lot, 3 bedrooms, 2 baths, screened in porch, flex room, covered front porch, and all the built-ins and features you would expect in a 1922 home.
Check out the photos and contact us for a showing! If you are not in the market for a home, feel free to share this link with someone you think might be interested. http://listing.curbexposure.com/bt/911_West_Woodlawn.html
As of today, 12/1/2017 ( the day after I sent this latest blog) our new listing has gone live! It is now on the market! http://thedefreesgroup.sa.exprealty.com/property/136-1281501-911-W-Woodlawn-Ave-San-Antonio-TX-78201
Not sure what you can qualify for on a home loan? Contact Stefen Brooks at Gateway Mortgage. He has first time home buyers programs, programs for teachers, firefighters, VA, and more. Call him at 210-714-3602 and/or email [email protected] He is very easy and fun to talk to. He loves helping people as much as we do! Tell him The DeFrees Group sent you!
After the Back-to-School slowdown, the market is getting busy again. If you are thinking of selling your home, now is a perfect time. Contact Bill or Pam and we will run a free market analysis to see what the estimated market value is for your home.
Reminder: There is no charge when representing you as the buyer. Whether the home is pre-owned, new construction from dirt, new build inventory, or land. We represent you, the buyer. We are with you every step of the way. The cost of the home is not affected by realtor fees. So rest assured we are there for you!
Contact The DeFrees Group @ [email protected] or 210-305-3605 to schedule an appointment to talk about your real estate needs.
Find us on your favorite social media platform!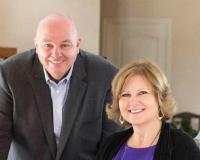 The DeFrees Group has over twelve years' experience in the real estate industry, to include lending experience. Growing up and graduating from college in San Antonio, we have seen this vibrant city ....