Below is a great news letter from our lending partner, Daryl Mitchell, at Pilgrim Mortgage.
For those of you who are renting and struggling with the decision to continue renting, or when the right time is to buy, this article is for you. There is also an informative video below that we hope will be helpful to you.
If you are not renting, but know someone who may need this information, please feel free to share it with them.
If you have any questions about buying, building, or selling a home, financing, or any other real estate questions, please do not hesitate to call, text, or e-mail us.
5 reasons 2015 is a good year to buy or sell a home – PLUS 5 easy fix-ups for a higher sale price

Housing market analysts are saying now is a good time to buy or sell a home. Here's why:
1. Mortgage rates still near historical lows.Remember, interest rates can be extremely volatile, so check with us for up-to-the-minute information.
2. Mortgage rates expected to rise by the end of year. Economists expect the Federal Reserve, the nation's central bank, to raise its Funds Rate this year. This may push mortgage rates up. Every 1% gain in mortgage rates reduces affordability by about 10%, so instead of a $200,000 house, you can only afford an $180,000 one. This hurts sellers too, as buyers drop out. No one knows for sure that these things will occur, but if you're on the fence about buying or selling, you may want to act this year.
3. Prices recovering, but at a slower rate. Home prices are rising, which is good because you don't want your home to be worth less in the future. Prices are going up more slowly than they did earlier in the recovery, so it doesn't pay for sellers to hold out for higher prices, especially if higher mortgage rates send buyers to the sidelines.
4. More choice. As home prices recover, more sellers put homes on the market. With the threat of higher mortgage rates, additional sellers are listing, so buyers have more homes to consider.
5. Improving economy. Economists point out that jobs are being created, wages are growing, consumer confidence is rising, and more households are forming, all good signs for home sales.

5 THINGS TO FIX BEFORE LISTING YOUR PROPERTY

A recent survey found that sellers boost their home's value more cost effectively with minor improvements than with big remodeling jobs. Here are five things that deliver the most value:
1. Improve the curb appeal. First impressions make a big difference in what a home is worth. Put a fresh coat of paint on the front door and potted flowers or small evergreens beside it. The roof is a big part of a home's appearance from the street. If it's dirty, have it cleaned by professionals. Touch up paint trim. Clear the front yard of toys, garden tools, and hoses.
2. De-clutter. Throw out old newspapers, magazines and files. Put away toys. Remove small pieces of furniture just taking up space. If your home looks clean and simple, buyers find it more attractive and overlook shortcomings.
3. Install the two things buyers want most in a kitchen. Can you guess? Granite countertops and stainless steel appliances! Blame it on the TV home shows. But if you don't have these items, the cost of installing them could be recovered in the sale. Check with your Realtor.
4. Update the small stuff. Put in new cabinet handles and door knobs, fresh lighting fixtures, make minor updates to kitchen and bathrooms. Look for outdated things that can be easily replaced.
5. Stage the place. Hire a professional or do it yourself. Use minimal furniture and neutral colors. Organize and de-clutter closets and cabinets. Rent a storage space for what you remove.

When you're ready to take advantage of the opportunities in this year's housing market, please contact us for help with the financing. We're also happy to answer questions about refinancing your current home or funding home improvements. Just call or email us any time.... Have a great day!

P.S.: Mortgage rates are still at historically attractive levels, but it's smart to start the process early. Please call or email us to explore the great options now available.
click on link for Video
http://money.cnn.com/video/news/2015/02/02/romans-2015-year-to-buy-a-house.cnnmoney/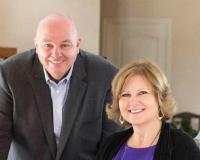 The DeFrees Group has over twelve years' experience in the real estate industry, to include lending experience. Growing up and graduating from college in San Antonio, we have seen this vibrant city ....