We wanted to let you know about a price reduction on our listing on 16602 Worthington. This 3/2.5 home rests in the back corner of a quiet, gated, family-friendly neighborhood. It is perfect for those who wish to spend a lot of time hanging out in the shade of the mature trees or on a large patio. Not to mention, summer here is very hot and it will be great to cool off in the inviting swimming pool. You really cannot beat the price in Inwood Village.
Saturday, May 2nd and Sunday, May 3rd, we will be hosting an Open House at 4814 Palma Nova. This is in a great new area on the Northside. Santa Maria at Alamo Ranch, off 1604. This one story home has an open floor plan and has so many upgrades, there are too many to mention. This is a brand new build by Lennar. $285,300
Check out these pictures and video and then come on by to see us. Let us know that you saw this on this web page because we'd love meet you.
Please call, text, or e-mail us (or even FB message) and let us know how we can help you find or sell a home. We love our jobs and want to make your search fun and painless. 210-305-3605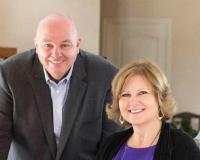 The DeFrees Group has over twelve years' experience in the real estate industry, to include lending experience. Growing up and graduating from college in San Antonio, we have seen this vibrant city ....