We hope everyone had an amazing Independence Day weekend!
It's a new week and it's summer time. So many people are moving or thinking about moving. It's a great time to sell!
Let us know if you are thinking of putting your home on the market and we will be happy to give you a free estimate on what the market value is on your home.
This is a little announcement to let all of you know about our new listing we have on the Northwest side of town, near Sea World.
15442 Grosbeak Pass is a perfect family home. It is 2 stories, and has 3 bedrooms, 2 1/2 bathrooms, and a game room/loft, which are all upstairs. The downstairs is great for family time; living room, dining room, and breakfast room. The backyard is on a large corner lot with 2 oak trees and a covered patio. The family who lives here, loves how close the home is to Sea World, shopping, and restaurants. There is also a wonderful community pool. This subdivision has no city taxes and still close enough to Lackland AFB if that's a consideration for you.
This home is priced at the low price of $189,900!
Click the link to see a virtual tour http://tours.curbviews.com/idx/951041
There is an Open House here on Sunday, 7/12 from 12:00-4:00.
Today, Wednesday, we are hosting an Open House in beautiful, peaceful Hollywood Park from 3:00-7:00 Check out the virtual tour on this home! It would be like coming home to your very own Bed and Breakfast everyday. This French-country and contemporary home has been completely remodeled and has too many unique surprises to list. There is also a workshop in the back for all our projects. It has 3,351 square feet with 4 bedrooms and 3 baths and is one story.
This home is priced at $470,500 and the address is 233 Fleetwood. We would love to meet you! Come on by!
http://apps2.shoot2sell.net/gallery/233-fleetwood-dr-san-antonio-tx/

As always, let us know about helping you find your new home, connecting you with a lender who can start getting your pre-qualification paperwork started, and/or getting your current home sold. We love referrals and we love thanking those who refer customers to us. If you send us a referral, make sure you let us know!
Have a great rest of the week!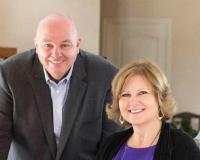 The DeFrees Group has over twelve years' experience in the real estate industry, to include lending experience. Growing up and graduating from college in San Antonio, we have seen this vibrant city ....