Our stormy weekend caused an Open House delay. We hope you can make it to our Japhet Builders home today instead.
Japhet Builders are custom builders who can build on their lot or on your lot. They can build their own plan or they can change it up a bit to fit your needs. They can also build a plan that you like! How's that for customer service. Contact us and we can help you get a home of your dreams!
Maybe this home is it. Come out and see us today and find out. 3:00-6:00 today. This community has gorgeous hill country views and the homes sit on 1/2 acre lots.
Our long time great friend, "Build On Your Own Lot" expert for Japhet Builders, Billy Carol, will be there with us today. So, if you've been thinking of building and you don't know where to start, today is your day. Between the three of us, we can get you started!
There are other homes in this community and also beautiful homes in the Napa Oaks & Front Gate Communities in Fair Oaks. Please contact us for showings. We are happy to help you! Soon, there will be gorgeous Garden Homes available there as well. And not your typical Garden Homes either!
Bill and I have a listing out side city limits off 1604 and Potranco that may fit your needs.
This home is pre-owned, in awesome condition, well loved and cared for by the family who lives there.
15542 Grosbeak Pass in Redbird Ranch Subdivision.
This 2087 sq ft two story 3 bedroom, 2.5 bathroom brick home sits on a large corner lot. It is perfect for family living. Enjoy the well manicured back yard and oak trees from the covered patio. The game room/loft and bedrooms with large walk-in closets are upstairs, leaving the downstairs for entertaining and relaxing. Living in this subdivision allows you to enjoy a wonderful community pool and no city taxes. You are very close to Sea World and it is convenient to Lackland AFB, in addition, you are down the road from places to shop & eat. $179,900

One of our clients on our web site is a flooring company. Check out their web site!
http://brackenfloors.com/index.html
We are expecting our Grand Baby #2!
Thanking God for His continued blessings on our growing family. We don't deserve His love or His blessing. No one does. Yet, He loves us all unconditionally. We are simply THANKFUL! We just wanted to share our thankfulness. We have 7 kids; mostly grown. Our youngest is 17. This guy is our oldest. He is a pastor in Midtown SA. http://www.theparkmidtown.org/
We love serving our community and our clients. Please let us know how we can serve you. Have an awesome week.
Bill & Pam DeFrees
Keller Williams Heritage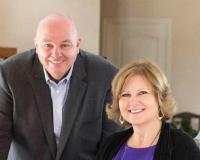 The DeFrees Group has over twelve years' experience in the real estate industry, to include lending experience. Growing up and graduating from college in San Antonio, we have seen this vibrant city ....