Happy Valentines Day!
In honor of Valentine's Day, here is a heart shaped cactus picture that my sister took a picture of.
She's quite the photographer.
Also in honor of Valentine's Day weekend, we are having a plethora of Open Houses and we are cordially inviting YOU!
Of course there will be treats!
Saturday, the 13th, Bill will be hosting an Open House in Alamo Ranch. 12:00 3:00 This home looks like a model home. It is a one story and includes 4 bedrooms, 2 bathrooms, a study, and a fabulous back patio, perfect for entertaining. Priced reduced to $330,000
http://defrees.livelovesanantonio.com/property/136-1154776-12606-Alstroemeria-San-Antonio-TX-78253%20
Also, Saturday, the 13th, from 1:00-3:00, I'll be hosting an Open House with the listing agent of a great home in The Ridge at Canyon Springs http://defrees.livelovesanantonio.com/property/136-1158973-518-Blue-Springs-San-Antonio-TX-78260 This home has 5 bedrooms, 3319 square feet, and the master bedroom is on the first floor. Beautifully maintained home priced at $328,900
Sunday, you will find Bill and me both in Encino Ranch. http://defrees.livelovesanantonio.com/property/136-1137039-3410-Ruidosa-Ridge-San-Antonio-TX-78259 We'll be here from 1:00-4:00
This is a huge home with two master bedrooms! One master is on the first floor. 5 bedrooms, 3 1/2 bathrooms, and a huge game room and office. The upper deck outside over looks an almost 1/2 acre yard and you can even see the fireworks downtown from the deck. This home has been under contract and it fell through. The owners have already moved out and are ready to sell this home. $389,550
We would love to have you a part of our Valentine's weekend. We love meeting people and we would absolutely love meeting our web site clients. Some of you we have already met at Open Houses and we would love to see again. Let us know if you have any questions about these homes or any other homes. We are happy to answer questions for you. If you have questions on financing, mortgage companies, different areas of San Antonio, school districts, or anything else, just shoot us a text or e-mail or give us a call.
1 Corinthians 13:13 Three things will last forever--faith, hope, and love--and the greatest of these is love.
Thanks!
Pam DeFrees
Keller Williams Heritage
210-305-3605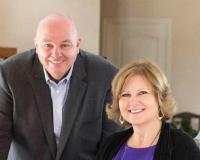 The DeFrees Group has over twelve years' experience in the real estate industry, to include lending experience. Growing up and graduating from college in San Antonio, we have seen this vibrant city ....