The ABC's
So you may ask, what are the ABC's? 1,2,3's ? The basics? The first steps perhaps? The foundational blocks of learning? The first letters of the alphabet! Well, while those are all correct answers, ABC to me means quite simply Amble Benevolent Carter. It's a name, the name of my Paternal Grandfather. Yep, Amble Benevolent, but everyone knew him simply as "AB", A.B. Carter that is. He passed away twenty years ago, but the legacy is going strong.
You see, A.B. was a salesman, showman, card carrying Optimist Club member, musician, comedian, hobbyist, perfectionist, encourager, organizer, tinkerer, sharp dresser, talker, christian, father and grandfather. All of my memories of "Grandaddy Carter" were amazingly positive, happy and smelled like old spice. He woke up at 5:00 a.m. every morning, boiled water for his tea, folded a paper towel and placed his spoon on it. He sipped it with obnoxious fervor and read the paper. He would disassemble lights, fans, electronics, cameras, and organize their remaining parts into glass jars, drawers and cubby's. According to my dad, he invented the worlds first self propelled lawn mower out of such parts and left overs. In a word, he practiced ingenuity.
As a child, we would visit him in Memphis, TN, where his home was filled with trinkets and memorabilia from his travels around the globe. His basement was a place of utter wonder and amazement. Inventions and organization everywhere! Tools and parts organized in such a way that in today's world he would have had his own reality show; "Extreme Organizers" or something like that.
But perhaps the most fascinating side of Grandaddy Carter was the "ABC Show" of Memphis, TN. Throughout the week, the ABC show would perform sketch comedy shows at churches, retirement homes, and community centers throughout Memphis. Real, old school, clean, funny routines, filled with singing, piano playing, jokes, audience interaction, props, pop guns, and the whole nine yards! The man knew how to work a crowd and knew how to promote his show.
I say all this not to draw attention to what a great guy my grandfather was, but as a call to arms. A cry out to all the dads and granddads out there that may think they are insignificant or just average. Men that have turned their eyes from eternal to temporal, from inclusive to exclusive and from encouraging to discouraging. Guys, we have one life to live, we can perpetuate our values through those we know, love and mentor, or we can let it end with us.
In 1976, my grandfather gave me a gift..
It is a homemade picture frame with my picture and the following words..
"THERE ARE MORE OF THESE OUT IN THIS BIG WORLD. YOU WILL HAVE TO GET BIG AND EDUCATED LIKE DADDY, SO YOU CAN GET YOUR SHARE. GRANDADDY CARTER."
It has hung on my wall and in my office ever since. It was one of many homemade and personally typed (his handwriting was atrocious) gifts my grandfather gave me over the years. The legacy he left is undeniable. His love for Christ was unmistakable and the blessings for his future generations will abound.
Dads, go out there and get your share!
Michael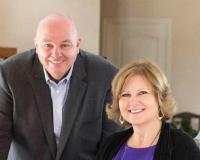 The DeFrees Group has over twelve years' experience in the real estate industry, to include lending experience. Growing up and graduating from college in San Antonio, we have seen this vibrant city ....