Sunday is the first day of Spring. HAPPY SPRING y'all!
Texas has some of the most gorgeous spring flowers! Yes, I may be partial, being a Texas girl, but as I drive around San Antonio, and the small towns surrounding our unique city, I'm just blown away by the beauty lining the highways and the fields.
By the way, I didn't grow up a Texas girl, but I got here as fast as I could (as they say). I do remember the fields of sunflowers in Kansas and they are absolutely breath-taking. I also experienced these fields in Ukraine. I love me some sunflowers! I guess that's one thing that is not bigger in Texas, at least not in these parts. But nothing beats our state flower here in the Lone Star State, in my humble opinion. :)
If you are new here, don't miss your short window of opportunity to take your kids (or pets) out to the fields for a photo op. They make the best memories and the best Easter pictures. Just watch out for those horrible fire ants PLEASE! Beware of these guys, they are vicious. If the ground is wet and you don't see a mound, the ants are active and will attack. They climb all over your feet, give their little ant signal, and before you know it, it's too late, they attack.
For picture location ideas, try driving a little out of town. Morning or late afternoon are the best photo times. The flowers show up better under cloudy skies or the morning sun. The pictures above were taken in New Braunfels last year. I haven't made it out there this season but I'm sure they are just as gorgeous.
So far, we have driven to Floresville and up I10 past Buc-ee's, in Luling. What's Buc-ee's? Wow....you are new to Texas. You must experience Buc-ee's. It's the best.
I have the best husband. He knows how much I love taking pictures of the county-side full of flowers, and he will take the long way home and pull over so that I can capture these beautiful creations. The kids "love it" when we do this.
Indian Paintbrush between Kyle & Luling
Easter is around the corner. Our church will be meeting at the Playhouse Theater @ 800 W Ashby Pl, San Antonio, TX 78212 at 10:00. We'll have an Easter Egg hunt for the kids and a BBQ for lunch after church.
We'd love for you to come join us if you don't already have a place of your own. http://www.theparkmidtown.org/


Spring is a time of blooming, new beginnings, freshness.... I like spring!
BTW, I'd love to see your spring pictures. If you would like to share yours with us, e-mail us at [email protected] or send them to me at our defreesrealtygroup FB page. We'd absolutely love to hear from you and see your pics!
-Pam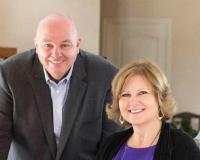 The DeFrees Group has over twelve years' experience in the real estate industry, to include lending experience. Growing up and graduating from college in San Antonio, we have seen this vibrant city ....