We are now empty nesters! We dropped our baby off at A&M this weekend and came home to our empty house. We are excited for what the future holds for our son and we couldn't be more excited for him! We know many of you are busy with back to school schedules or dropping kids off at college as well. There are so many stages in our lives and in raising our children.
These changes create different housing needs. Some might need to downsize now that the kids are gone. Others may just be starting their lives together and thinking of purchasing their first home. It might be time for others to purchase that lake house or piece of property they've been dreaming of. We have been through it all.
If you have been thinking about purchasing a home, now is a great time! We have time on our calendar to schedule with you. Whether you are thinking of selling your home or purchasing one (or both), we would love to serve you. We feel that earning trust with honesty and integrity is more important than anything else we can offer. Our technology, negotiation skills, and our knowledge of the market benefit our clients as we sell their property or guide them in purchasing a pre-owned home, new construction build, investment property, or land.
We work with a team of incredible people who also serve our clients beyond expectations. Our title company, mortgage lender, and inspectors believe in the same values as we believe in. Our team is there for our clients and we work hard to get the transaction completed as worry free and stress free as possible.
Contact us at 210-305-3605 or [email protected] to schedule an appointment with us.
For the latest on what is going on in the market, check out the newsletter below.
http://thedefreesgroup.housingtrendsenewsletter.com/

Featured Listing: http://thedefreesgroup.sa.exprealty.com/property/136-1212831-1235-River-Enclave-New-Braunfels-TX-78130
1235 River Enclave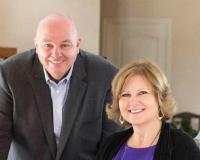 The DeFrees Group has over twelve years' experience in the real estate industry, to include lending experience. Growing up and graduating from college in San Antonio, we have seen this vibrant city ....